Omran Khalid M. Al Siyabi is a Promising Entrepreneur is a New sensation in Social Media
Omran Khalid M. Al Siyabi Born in Tanzania in the early '80s is the third born of his late father's legendary. He finished his high school education in Tanzania where his late mother was originated. Omran Khalid M. Al Siyabi then moved to Oman to start his life together with his brother and sister. While in Oman he worked hard to acquire more knowledge and ended up in CINEC (Colombo International Nautical Engineering College) in Sri Lanka where he achieved his profession in Marine Navigation and Fishing Technology, in 2002 he moved to Qatar where he restarted his career as a Navigator (Captain Assistant) but 2 years after that he changed his job few times and landed to the administration department.
Mr Omran did not stop there; he joined Oxford and attained Digital Marketing and HR professions. He is now one of the know figures online and offline, being more active on
Instagram  https://www.instagram.com/the.solidom/
LinkedIn  https://www.linkedin.com/in/omran-khalid-al-siyabi-17063a65
Twitter    https://twitter.com/thesolidom
Facebook https://www.facebook.com/doctorsiyabi
He now maintains his own family of 2 kids, Girl and a Boy Manal and Majid is also seen participating in online activities through their parents' platforms, especially on their mother's as she is one of the leading Public Figures online and offline @beinglayla_a. Without forgetting these Lil ones have their own Instagram account @mnm.alsiyabi they are quite celebrities I can say. So what title we give to Mr Al Siyabi? We asked him, and his answer was to call him an entrepreneur because of he is still working on coming up with new ideas to implement to the market, he said nowadays we are all doing what we see works for others, we are not trying to be original, and once he accomplishes that originality on what he is doing then he will earn the title of a businessman. He is working on bringing a new Drive Safe System (DSS) for motor vehicles, "if this system works and accepted in the market it will implement a huge positive impact on the road safety system" He said.
As a social media specialist, he is one of the specialists who always come up with different, unique and creative ways of utilizing social media platforms, one of the creative ways he did is created an Instagram account as a database catalogue for the company that he works for, so anyone can view the full catalogue there and if you are following the account you will be notified of any new product added to any of the catalogues. You can see the created catalogue account: https://instagram.com/caci_catalogues?igshid=viaklvs2oofp
We wish to see you succeed in all your ventured Mr Omran Khalid Al Siyabi and we appreciate your cooperation in putting this article together.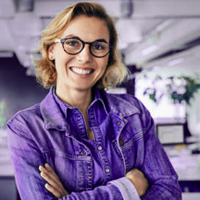 Glenda Bozeman – Business and Services
Glenda Bozeman writes Business articles for industries that want to see their Google search rankings surge. Her articles have appeared in a number of sites. Her articles focus on enlightening with informative Services sector needs. She holds the degree of Masters in Business and Marketing. Before she started writing, she experimented with various professions: computer programming, assistant marker, and others. But her favorite job is writing that she is now doing full-time.