Kim Kardashian Offers To Pay Up The Medical Bills Of The Protestor Injured Severely With A Rubber Bullet
Reality Star Kim Kardashian uses her wealth and platform to address a horrific incident where a high school girl was injured brutally after being hit on the face with rubber bullets during a protest over George Floyd's murder. The mother of four was severely shocked and at the same time horrified at the distressed image of the young girl with a gaping, full of blood hole in the middle of her forehead. As it happened, her eye was black and blue, and swollen shut.
The injury was so severe that it looks as if she may require some reconstructive surgery along with several stitches. One can only imagine how much grave pain the young girl must have been experiencing. As it seems that America is facing quite a volatile time under the presidency of Donald Trump who has so far never condemned police brutality but has instead run his campaign on Law and Order.
The current incident of the tragic murder of George Floyd has served as a wake-up call to the country that the black people and other minorities have been brutally tortured and murdered at the hands of the police forces who are indeed supposed to protect and save the citizens.
With the growing outrage and protests across the nation, the fear of looters and other violent attacks are on the rise, with more and more communities threatening to use their force against the protestors, and many others who say that they are rather assembling peacefully.
Kim Kardashian went ahead to share a photo of the young girl's injuries and also shared a comment along with it.
Her statement clearly stated on how heartbreaking and disturbing the situation is. She even asked people on how she can get to contact with the injured girl. Kim Kardashian Offers To Pay George Floyd Murder Protester's Medical Bills After She Was Shot In The Face.
Her fans immediately responded to her plead and comments started pouring in. Many of them pointed her to one user's account where the girl has shared the same, original photo, and many believe that she is the one who was shot in the face with the rubber bullet.
The account which goes by the name of ShannynSharyse has the name Steve Rogers, and she had written that while she was protesting, and recording everything she got hit.
The girl has also shared some additional photos from the hospital.
As of now, it is still unclear as to whether or not Kim Kardashian has offered help and made the contact, but as it seems that she might contact her very soon.
To find out more, stay tuned to our story.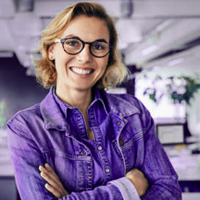 Glenda Bozeman – Business and Services
Glenda Bozeman writes Business articles for industries that want to see their Google search rankings surge. Her articles have appeared in a number of sites. Her articles focus on enlightening with informative Services sector needs. She holds the degree of Masters in Business and Marketing. Before she started writing, she experimented with various professions: computer programming, assistant marker, and others. But her favorite job is writing that she is now doing full-time.