Trafi selected by BVG and wins tender for Jelbi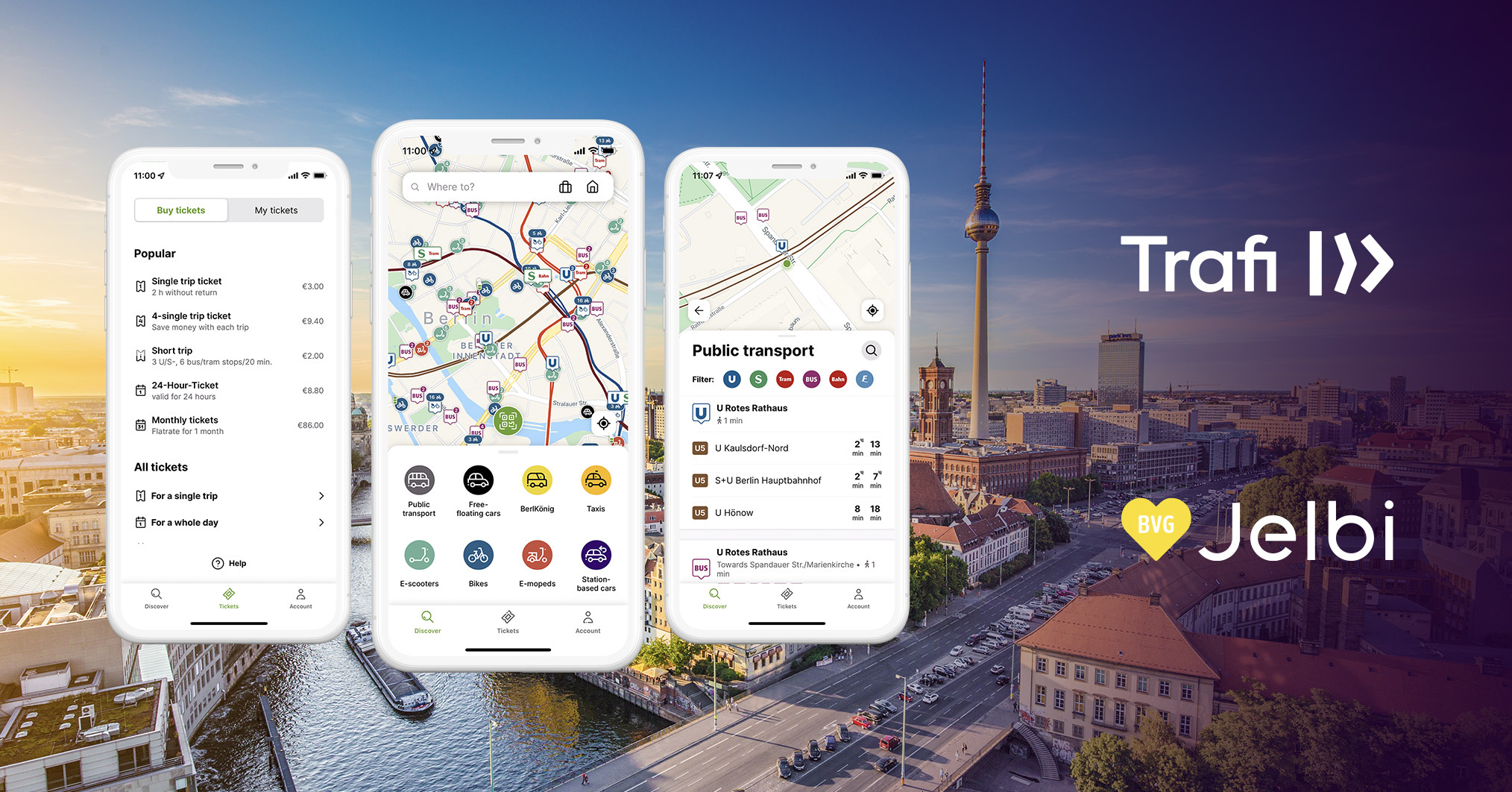 Trafi, the world's leading mobility technology provider, has been selected by the Berliner Verkehrsbetriebe (BVG) to continue operating the largest integrated Mobility-as -a- Service (MaaS) platform in Berlin from 2022.
(ProNewsReport Editorial):- Berlin, Germany Dec 15, 2021 (Issuewire.com) –  
With around 45,000 vehicles and 12 mobility offerings integrated into the platform, and used by approx 8% of the city's population, Jelbi is one of the first and largest multimodal Mobility-as-a-Service platforms in the world.

An alliance for tomorrow's mobility

Trafi, a technology company with active MaaS solutions in over 30 cities across four continents, has built, developed, and maintained the Jelbi platform over the past 2.5 years, while BVG has taken an active role in marketing and communicating with end-users. Jelbi bundles buses and trains, sharing offers, cabs, and on-demand services into one mobility platform, which is accessible to users via an app. In addition to local public transport services, all shared mobility service providers – such as shared kick scooters, mopeds, e-bikes, and ridesharing services – can be integrated into the platform. Users benefit from these connected mobility solutions to reach their desired destination quickly, conveniently, and using digital services.
Martynas Gudonavicius, CEO of Trafi, commented, "We are proud to continue our mission of decarbonizing mobility and encouraging the shift to sustainable transport with our technology. Creating the most comprehensive MaaS platform globally is not just another milestone for us, but also an important step forward for the mobility industry. Now that we've been selected to scale up the platform to a never-before-seen size and level of complexity for MaaS, it proves the success of private-public mobility partnerships and paves the way for similar initiatives in the future."
The analog twin to the MaaS solution
Dozens of Jelbi stations can be found across Berlin. Jelbi stations are the analog twins of the MaaS platform: these mobility hubs are strategically located near bus and train stops that see a high amount of foot traffic every day from commuters. Different types of vehicles from multiple service providers are available at the Jelbi stations, and they're often used in combination with public transport services. This innovative approach promotes sustainable, multimodal mobility and allows for a more practical daily commute. Through connected mobility services and close cooperation with BVG, Trafi's MaaS platform is helping to relieve car traffic in Germany's capital.
This positive impact is a source of validation for Trafi in the MaaS industry. MaaS solutions are typically delivered as a mix of technologies provided by companies working together to create a seamless travel experience. This is accomplished by integrating journey planning and payment for multiple modes of transport, as well as integrating existing public transport networks. Trafi's mobility solutions continue to enable access to more Berliners and encourage them to shift to sustainable transportation modes.
Jelbi key figures
–  8% of Berliners use Jelbi

–  Average trip duration/length of Jelbi users: 36 minutes (all modes together)

–  Type of vehicles integrated: E-Scooters, E-Mopeds, Taxis, Ridehailing, Carsharing

(station-based, free-floating), Bike-sharing

–  Providers integrated into the application: BerlKonig, Emmy, Lime, Nextbike, Miles,

Mobileeee, Nextbike, Taxi Berlin, Tier, Voi, VBB
More on the Pronewsreport: