Putin Says The World Now Cancels Russia The Way They Did The Author Of Harry Potter JK Rowling
President Vladimir Putin is completely in a different dimension as he thinks exactly opposite to what the rest of the world does. Comparing himself with one of the greatest authors of fictional books JK Rowling, he said that the world cancels Russia the way it has canceled Harry Potter Writer J.K. Rowling.
He even went one step further by saying the opposition against Russia is comparable to the Nazis of World War II.
Russian President Vladimir Putin said, "JK Rowling was rejected because she could not satisfy the demands of gender rights. They are now trying to cancel our country. I am saying about the progressive discrimination of everything against Russia."
Taking a few instances of discrimination into consideration He also added, "Today they are trying to cancel a whole thousand-year culture – our people. They are banning Russian writers and books. We remember the footage when they were burning books. It is impossible to imagine such a thing in our country and we are insured against this thanks to our culture."
Talking about the glorious culture and ethnicity of the country, Putin said, "It's inseparable for us from our motherland, from Russia, where there is no place for ethnic intolerance, where for centuries representatives from dozens of ethnic groups have been living together."
Although author JK Rowling is not a very popular figure in western popular culture, she decided to respond to the comparison of Vladimir Putin. On Twitter, the author tweeted, "Critiques of Western cancel culture are possibly not best made by those currently slaughtering civilians for the crime of resistance, or who jail and poison their critics. I stand with Ukraine."
Although there is no official response from Putin. But, this incident can be compared to the former president of the USA being rejected by artists when he wanted to use their material for the purpose of the campaign.
It has now surpassed a month and a day since Russia invaded Ukraine. Celebrities and political figures across the world have condemned Vladimir Putin for his irrationality of killing civilians. JK Rowling is just a new name added to the list of Putin's condemners.
Although western counties have opposed Putin, giant economies like India and China have decided to stay neutral in this matter. Now, people only pray that this will end soon and will not convert into something as big as swallowing the whole world into it.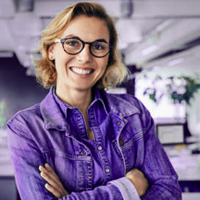 Glenda Bozeman – Business and Services
Glenda Bozeman writes Business articles for industries that want to see their Google search rankings surge. Her articles have appeared in a number of sites. Her articles focus on enlightening with informative Services sector needs. She holds the degree of Masters in Business and Marketing. Before she started writing, she experimented with various professions: computer programming, assistant marker, and others. But her favorite job is writing that she is now doing full-time.