Reputation Protection – How to Protect Your Reputation Online
Online reputation is what the internet thinks about you. Before buying any product and searching for a company, the first thing that a user does is to search the internet for the desired information. By looking at the information available on the internet, the users build an image of the person or the business. So, if you are a new entrepreneur and want to enhance your business reach, the first thing that you should be doing is to build your online reputation.By doing this, you can have good business and customer following.
However, in addition to build a better online reputation, it is also important to protect it. One single negative comment about your profile or your business can easily ruin your entire identity on the internet. This is why you should look after everything that the internet is talking about you and what news is being propagated for your business. In other words, it is extremely essential to protect your online reputation and make a good reputation that will help you gain the best business for yourself.
In this article, we are going to focus on protecting your online reputation instead of building a better one. So, if you are having a good profile and lots of users follow you and your business, then be with us until the end of the article to know more about protecting your online presence and reputation.
Tips to protect your online reputation
Although it may seem a tough task to monitor the online reputation, believe us, you can follow a few simple steps to get complete control over your online reputation. In this section, we will be talking about the few of the most reliable and easy to follow tips to protect your online reputation and get better business than ever before.
Tip 1: Regularly check for your online presence
The first important thing that you should do is to check for your current online presence. To do this, you simply have to search for your name or the business you own over the internet using your favorite search engine. By doing this, you will be able to know about your online reputation and you can then decide what you should do to improve this. And in case you have a good online reputation management services, you can focus on keeping it good.
Tip 2: Secure your online social media presence
Social media accounts play an important role in creating your online reputation. So, whether you are an entrepreneur or a small business owner, you should treat them carefully. Every single thing you do on these social media websites can help your competitors to have a talk about you. So, it is better you keep your social media account secured and keep them free from spammers to provide the customers with legit information.
Tip 3: Publish content that is legit and reliable
If you own a company page for your business, then make sure that every single information being published on the page goes live after your approval. Although this looks simple, it can help you a lot to keep the page away from the spammers and haters.
Tip 4: Participate actively on social media and customer feedback
Apart from securing social media accounts, it is also important that you actively participate in the conversations and talk to the customers for their feedback and suggestions. By doing this, you can get help in two ways, first, your customers will feel more connected to you, and the other benefit is that it will help you enhance your online reputation or ORM Dubai . So, be active on social media and provide the customers with the best possible services.
Tip 5: Pay attention to online reviews
Online reviews for your business and products play an important role as any new potential customer looks at the reviews before making the investment. So, make sure that you have good reviews on the internet. Although there are numerous ways to earn great reviews, but we will suggest that you stick to providing the users with the best quality services. By doing this, you can make your existing customers happy that will eventually attract new customers to your business. So, provide good services and insist the customers to write reviews to attract new potential buyers to your business.
By using these five easy to follow tips, you can easily make your reputation intact over the internet from false reviews and other harmful things. Just be an active online user and you will be able to experience a good hype in your online reputation. By keeping things simple and straightforward, you can easily keep your good online reputation continued for years without hiring any professional service provider or online reputation management company for your business.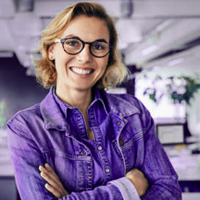 Glenda Bozeman – Business and Services
Glenda Bozeman writes Business articles for industries that want to see their Google search rankings surge. Her articles have appeared in a number of sites. Her articles focus on enlightening with informative Services sector needs. She holds the degree of Masters in Business and Marketing. Before she started writing, she experimented with various professions: computer programming, assistant marker, and others. But her favorite job is writing that she is now doing full-time.